Hey!
As most of you know, I work in a cinema (I have not been asked to write this..I wish I was being paid!!), bust since starting my job there, films have become a bit of an interest of mine. Everyone knows that the cinema is great for date night, but it's also pretty expensive and you don't want to waste your money.
(Disclaimer: I'm not saying you must see these films, nor that my opinion is the best..it's just a suggestion from someone who see's how A LOT of people react to films)
1. Logan: March 1st (15)
I suppose this one is for fans of Wolverine, X-Men or Hugh Jackman, but regardless, its a great film. I'm yet to speak to a customer that's unhappy, in fact, I've met a fair few that have seen it multiple times.
The film is set in the near future, a tired and weary Logan cares for an ailing Professor X in a hide out on the Mexican border. But his attempts to hide from the world and his legacy fail when a young mutant arrives, being pursued by dark forces.
2. Kong: Skull Island: 10th March (12A)
I suppose this is another action movie, so I'm sorry if that's not your thing, but who doesn't want to look at Tom Hiddleston?  This might be a little bit scary some of the smaller kiddies, but so far it's getting some cracking reviews. It's been very popular with customers.
A team of explorers are sent to a mysterious and dangerous island which is home to the king of the great apes, the film follows their struggles. It features some VERY big spiders! Well, very big everything really…
3. Beauty and the Beast: 17th March (PG)
This film has everyone so excited, despite some recent controversy with Emma Watson, and the gay character (who was ALWAYS there…Jeez.) This film is set to be one of the biggest of the year. It feels like we've been waiting forever since it was announced, and there have been a million trailers. It's about time!
I would highly recommend, watching the animated version before going to see this, although it's not a necessity. Also, if you're hoping to go over the opening weekend, definitely get there early for your tickets or book online! This film is already selling out showings and people have been coming in for months!
4. Get Out!: 17th March (15)
No doubt you've seen that this film was one of the very few to achieve 100% on Rotten Tomatoes. Whilst I cannot handle any film categorised as a horror or anything that looks remotely scary, I am so intrigued by this film. It's been out for a couple of weeks in the USA now, and people are raving about it.
I think this may be the film that conquers my fear of the horror/thriller genre, I'm certainly going to let it try.
5. Power Rangers: 24th March (TBC)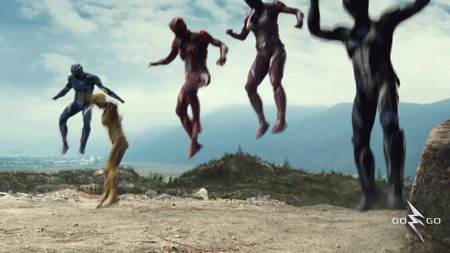 Okay, so I'm aware that when the trailer was first released, everyone said it looked awful. But after viewing different teasers, this actually looks great. The age rating is still to be released, which is odd for a film that is due for release in less than a fortnight, however, based on the target audience of Power Rangers, I would assume this would be no more than a 12A (PLEASE CHECK BEFORE GOING TO THE FILM!)
Five teenagers learn that their small town of Angel Grove – and the world – is on the verge of being destroyed by an alien threat. Chosen by destiny, the heroes discover they are the only ones who can save the planet. But to do so, they will have to overcome their real-life issues and before it's too late, band together as the Power Rangers.
As with all films, age ratings are strict. Nobody under the age of 15 is allowed to attend and see a screening of a 15 rated film. Cinema staff will ID and so it is so important that if you have a form of ID that you bring it…We cannot just take your mum's word for it. Sorry. I want you to see the film as much as you do, but I'm not losing my job..I have bills.
That is all for me. Please let me know if you like this style blog and you want to see more? Also let me know if you've seen any of the films I've mentioned or any others, and what you thought? I love hearing from you!
Please like and share and subscribe, get your friends involved.
Don't forget you can follow me on twitter and instagram, as well as like my facebook page for more updates.
See you soon.
Amy xo